Tennis is a whole different sport from the basketball, their rules, equipment's, game courts everything. But a question that frequently asked, is it OK to wear a basketball shoes for tennis? or is it helpful to wear a basketball shoe to play tennis for maximum comfort?
So, my answer is ' YES ' you can use your basketball shoe for tennis if there's no other option. They're more heavier, well cushioned, ankle supportive, but a little expensive than the other court shoes.
How Basketball Shoes Are Suitable To Play Tennis?
If you're a heavy person or needed extra ankle support from your footwear, a high top basketball shoe firmly the best option for the job. The reason is that, every court shoe is meant to provide extra support for lateral motion.
like basketball shoes even a volleyball shoe or other indoor and outdoor court shoes have ankle supportive design and a thick rubber outsole that surely a bit heavier but durable than the running shoe outsole. These 2 features make them responsive plus ankle supportive shoes for lateral motion.
All these features can be helpful for you if you need extra response from your tennis footwear. They meant to perform well on hard and rough conditions. Even if you're suffering ankle pain, plantar fasciitis or other foot problems, these bouncy basketball shoes can help reducing the pain.
Outdoor court conditions are not much similar for both basketball and tennis. Some of the basketball shoes can be worn to play tennis on omni 0r clay courts. Because specially designed outdoor basketball shoes have great grip, shock-absorbing midsole, and better lateral stability.
However, these can't be used on grassy courts because it requires a Nub traction or pimpled style traction pattern for better grip. You should check out our selected basketball shoes for tennis.
NOTE: How to Clean Basketball Shoes – Read More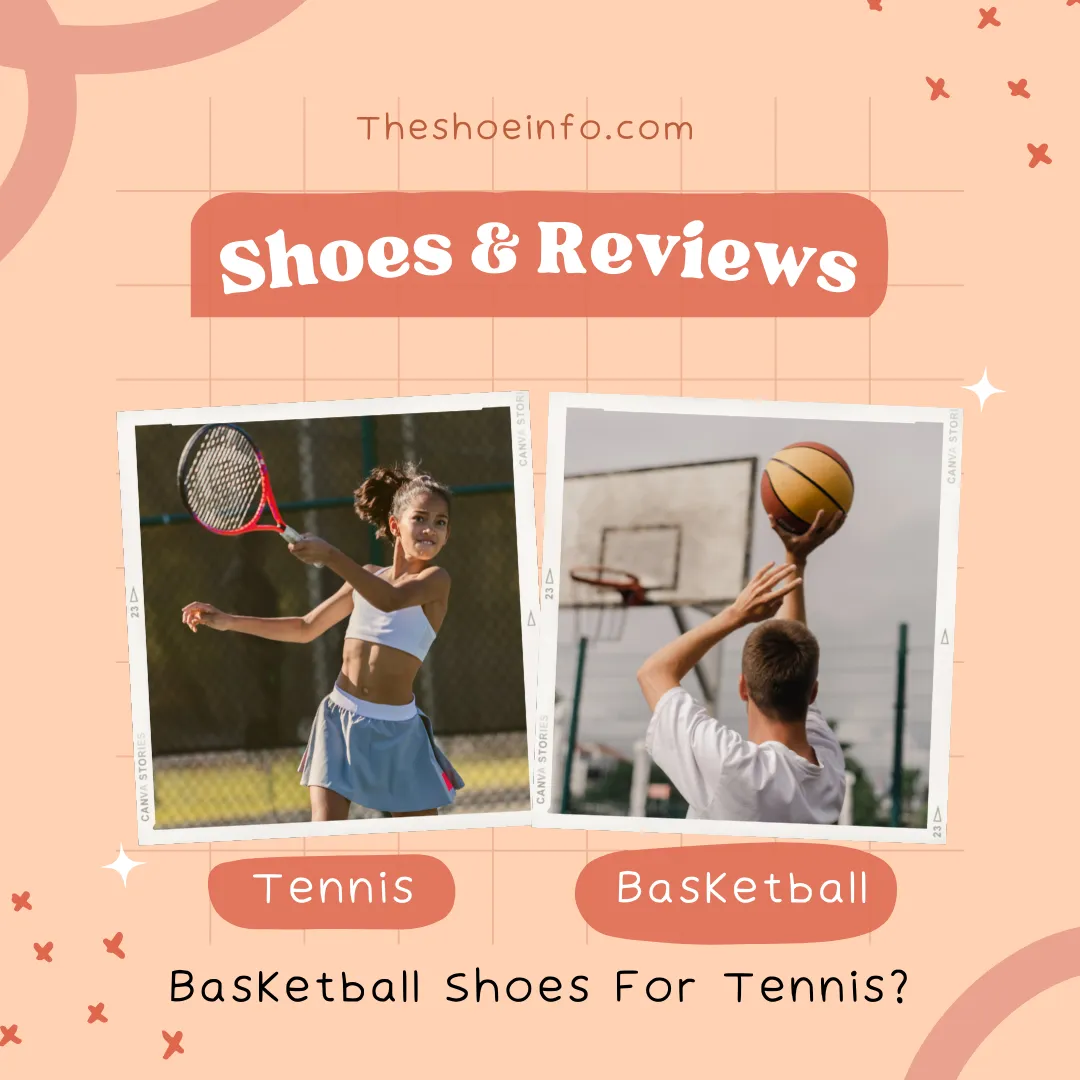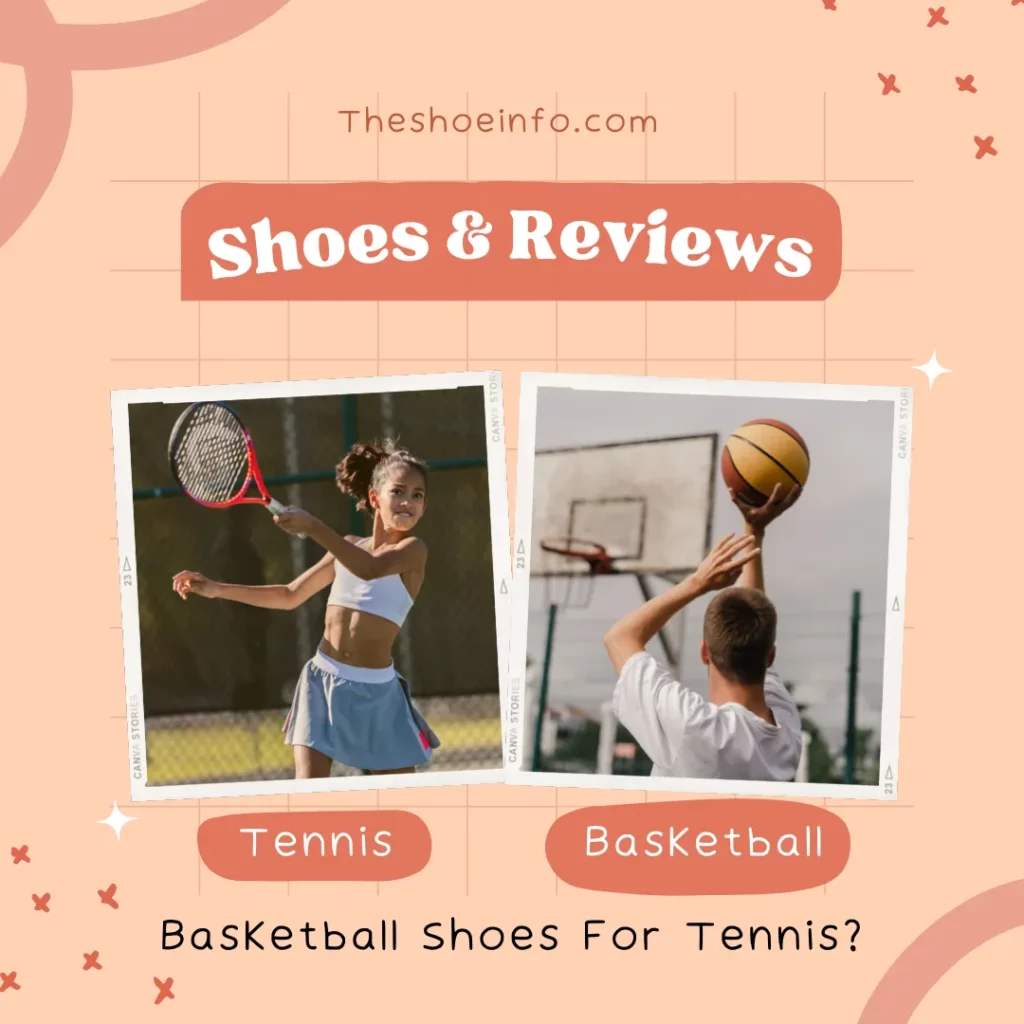 8 Most Suitable Basketball Shoes For Tennis Players
Here are the top 8 well cushioned basketball shoes for tennis. These shoes were tested by our team members to make sure the overall performance of these multiple sports shoes are good enough to play tennis with them.
The Peak Men's Basketball shoes from Lou Williams edition, is known as "Under Ground G.O.A.T". This is one of the best b-ball shoes of all time.
Our team member used them to play tennis, and he found them very lateral supportive and comfortable. The soft EVA midsole with palm rubber outsole with herringbone traction pattern is good enough to play tennis on omni courts with them. These peak men's shoes are highly recommended for those who have flat feet.
These Adidas Harden Step back 2.0 are the best basketball tennis shoes for both men and women. These were worn by many NBA star players, like Dzanan Musa and James Harden himself.
You can wear them on clay court and omni tennis courts. You'll like it's lateral stability and it's comfortability. A bouncy midsole + excellent ground traction provide extra comfort to your feet for fast lateral movements. These tennis basketball shoes are available in 9 different colors at an affordable price tag on amazon.
These PEAK's High Top men's basketball shoes are very comfortable unexpectedly to play tennis too. You'll feel protective while playing with them because of their high cut design.
A foam padded midsole has a bouncy cushioning that allows comfortable jumping and keeps your feet with comfort. Peak's RB traction unit on the outsole area creates excellent traction on grassy tennis court as well. This lightweight higher shoe has a woven textile mesh upper with classic lacing system produce perfect fit for your feet.
100% Textile Synthetics
Men's Basketball Shoes For All-Game Comfort
Dual-Material Mesh Upper Offers Breathable Comfort
Light motion Cushioning Enhances Dynamic Movements.
Adiwear Outsole Provides Durable Grip
Best Wide Fit Basketball Shoes For Tennis
Update your Tennis performance while staying comfortable and looking fresh with this top basketball sneaker from Adidas. This silhouette is made with a regular fit style, it's got a molded TPU counter in the back with an easy lace-up on the front to give you a secure fit.
For making sure it feels super fresh and breathable on the inside, There's a foam footbed in the bottom, and then some extra cushioning with each step. A Light Motion EVA midsole that has that chunky style and has a responsive shock-absorbent feel.
This top rated basketball shoe provide lots of cushioning to keep you on your feet. Underneath, it has an Adiwear rubber outsole that has a rounded design on each side. So, you can make each movement when you need to for keeping your head in the both games basketball or tennis.
100% Synthetic
Tommie Smith quote on outer heel
Women should order 1.5 sizes down from their usual size.
New Sleek Design
Wide Fit B-Ball Shoe For Court
Fashionable Red Color
For those who aren't afraid to kick it with fresh sneakers in the big-bad world of scuffs we got you. Clyde Court Core keeps it simple with a timeless silhouette and classic colorways. Don't flinch and grab 'em now.
The engineered sock-like collar offers support and flexibility around the ankle. A fully knitted upper provides comfortable support and fits easy slip-on structure inner-sleeve construction for progressive fit.
The dynamic lacing system of this low top Basketball Shoes For Tennis provides a secure footed feel. Its external heel counter offers a superior lock-down fit and feels. A full rubber outsole creates increased stability and durable multi-surface traction PUMA Form strip branding across the lateral side.
100% Textile Synthetics
Men's Court sneakers with a soft fabric sockliner and a textile lining
Lace closure for a custom fit
Synthetic leather upper for a durable
Smooth Feel and a mesh collar for breathability
EVA sockliner for soft comfort
Rubber Outsole for durable traction
Perfect Lockdown System
The Adidas High-Top basketball shoes are an old-school classic re-engineered for a new generation. These high cuts from Adidas are made to hit the hardwood, clay, and the streets.
You can play tennis with them because they are very comfy and ankle protective. The outsole is very supportive for quick lateral movement. The midsole has a bouncy cushioning that protects your feet from most common injuries, while provides good stability for jumping exercises.
The Adidas Harden Step back basketball shoes are the great in ground stability factor. You can wear these best traction basketball shoes on clay tennis court as well. You're gonna love the feeling!
The traction they're using is full-on herringbone in the forefoot and midfoot. as you get into the heel area you have a very similar pattern. No doubt, these well cushioned Basketball Shoes are good For Tennis. I guess the Adidas harden going one and the hard one with this dimpled pattern and the traction is really really nice.
The Adidas marquee basketball shoe has all the decisive features that are required for almost all court sports. It can be used as tennis shoe, volleyball shoe, basketball shoe, and nevertheless running shoe for overpronation. On every court surface it will not make you feel uncomfortable.
Moreover, the lockdown system is based on a traditional lace-up mechanism to keep your feet in place. It's rubber outsole has a wavy traction pattern that provides excellent grip on hard courts and even on the indoor hardwood surfaces. A thick padded midsole to provide extra comfort to your feet.
Related Article
FAQs