Finding the correct shoe size is the essential first step of shoe shopping. Inaccurate sizing, often caused by mistaking one size for another and can leave your feet feeling sore and uncomfortable. That's surely leads you to an unsuccessful purchase.
To ensure you get the perfect fit, there are a few at-home methods to help you establish what your true shoe size is.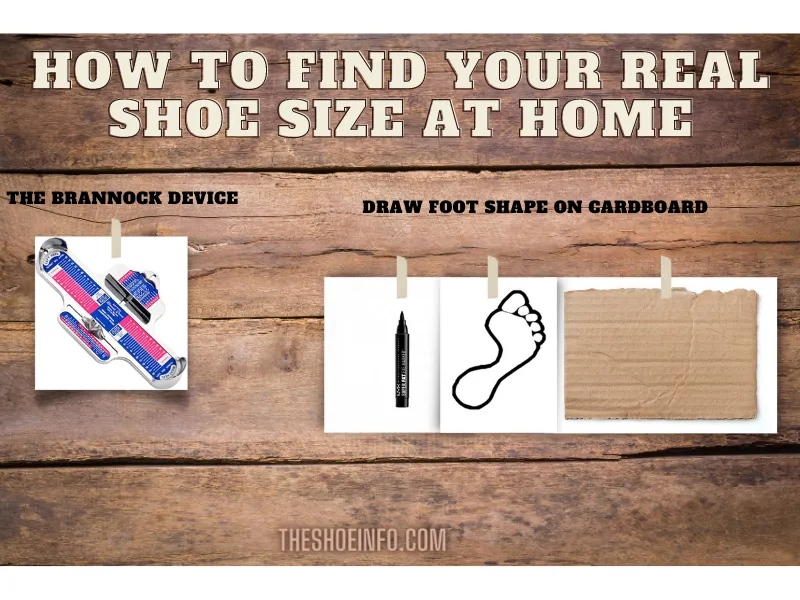 Foot Measuring Device – The Brannock Device
One of the most reliable methods of measuring your feet is with a traditional Brannock Device. Although you're more likely to find these in specialty stores. It is possible to find a Brannock Device online and in select shoe stores.
This tool is designed to calculate the length, width, and arch of your foot. Honestly, giving you the most accurate shoe size possible.
Draw Foot Shape On Cardboard
If a Brannock Device isn't available to you, there are other tools you can use to help measure your foot and determine the right shoe size.
One of the most common is a fabric measuring tape. To use this tool, place your foot on a blank piece of Cardboard and draw an outline of it.
Then, using the measuring tape, measure the length and width of your foot, including the heel, arch, and ball.
Check the size conversion chart to convert these measurements into the correct shoe size, paying attention to the difference between the sizing of men's and women's shoes.
For Online Shopping
If you're buying shoes online from any brand or website, like most people. What you want to do is just to take a picture of the tracing with your phone and then put a paper over top of it. Just got to make sure the image stays on There and then just trace it out.
That way you should have a cell phone-sized image of your foot. That image you can literally just put up against the shoe on your phone or on your computer screen for ease of use.
One of the most important things to keep in mind when measuring your feet and choosing a size for your shoes, is that feet are often slightly different sizes.
Catering to your larger foot size will ensure your shoes fit comfortably. Even if your smaller foot feels slightly constricted.
It's advisable to take these measurements twice to get the clearest idea of your shoe size. Comparing your measurements to the same standard size chart twice will clarify any discrepancies in your shoe size.
Additionally, if you're a wide footer or you want to provide additional comfort behind your heel and toes. I'll recommend you to go up one or two sizes and look for a shoe that offers a wider or deeper fit.
By following these steps, you can be assured of finding the right shoe size for you each and every time. And with the right fit, you're guaranteed the perfect pair of shoes for your feet every time.