Outdoor basketball shoes are built different from indoor ones because they need to be more durable, rugged, and comfortable. They also need to have good traction, cushioning, and support to handle the rough surfaces and weather conditions.
A good cushion basketball shoe is a must for playing on concrete surfaces because it's hard on your knees, your back, your feet and a good cushion provides impact protection. I hope that this compilation will help you make a better buying decision.
Top 3 Basketball Shoes For Outdoor 2023
EDITOR'S CHOICE
Nike Jordan Westbrook One Take Men's Basketball Shoes
Cool Basketball Sneakers For Outdoor
External plastic heel counter
Breathable & Durable Material
Fashionable New Look
PREMIUM PICK
Nike Men's Lebron 19 Basketball Shoes
Nike High Cut Basketball Sneakers
Extra Comfort For Weak Ankles
Stylish High Cut Design
Best For Outdoor Courts
BUDGET PICK
LI-NING Speed Series Men Professional Basketball Shoes
100% Textile Synthetics
Adidas High top Athletic shoe
Flexible molded heel counter
Lightweight Bouncy Cushioning
List Of 7 Best Outdoor Basketball Shoes 2023 – (Jump to reviews)
5 Key Features Your Outdoor Basketball Shoe Must Have
Hard and thick rubber outsole that can withstand the wear and tear of outdoor courts
A deep and wide traction pattern that can grip any surface and prevent slipping or sliding
Midsole With good cushioning system that can absorb the impact and provide responsiveness and energy return
The Upper should have sturdy and breathable material that can protect your feet and keep them cool and dry
A high or low top design that can provide the right amount of ankle support and flexibility for your play style
When it comes to selecting the best pair of outdoor shoes, it can definitely get confusing with the huge number of brands and products available. It can be hard trying to find a brand that actually supplies high-quality shooting hoops and other items, but we know you'll have a fair shot at finding the perfect one among our top rated picks of basketball shoes.
Latest Article – Unveiling the Supreme 8 – Best Low Top Basketball Shoes of 2023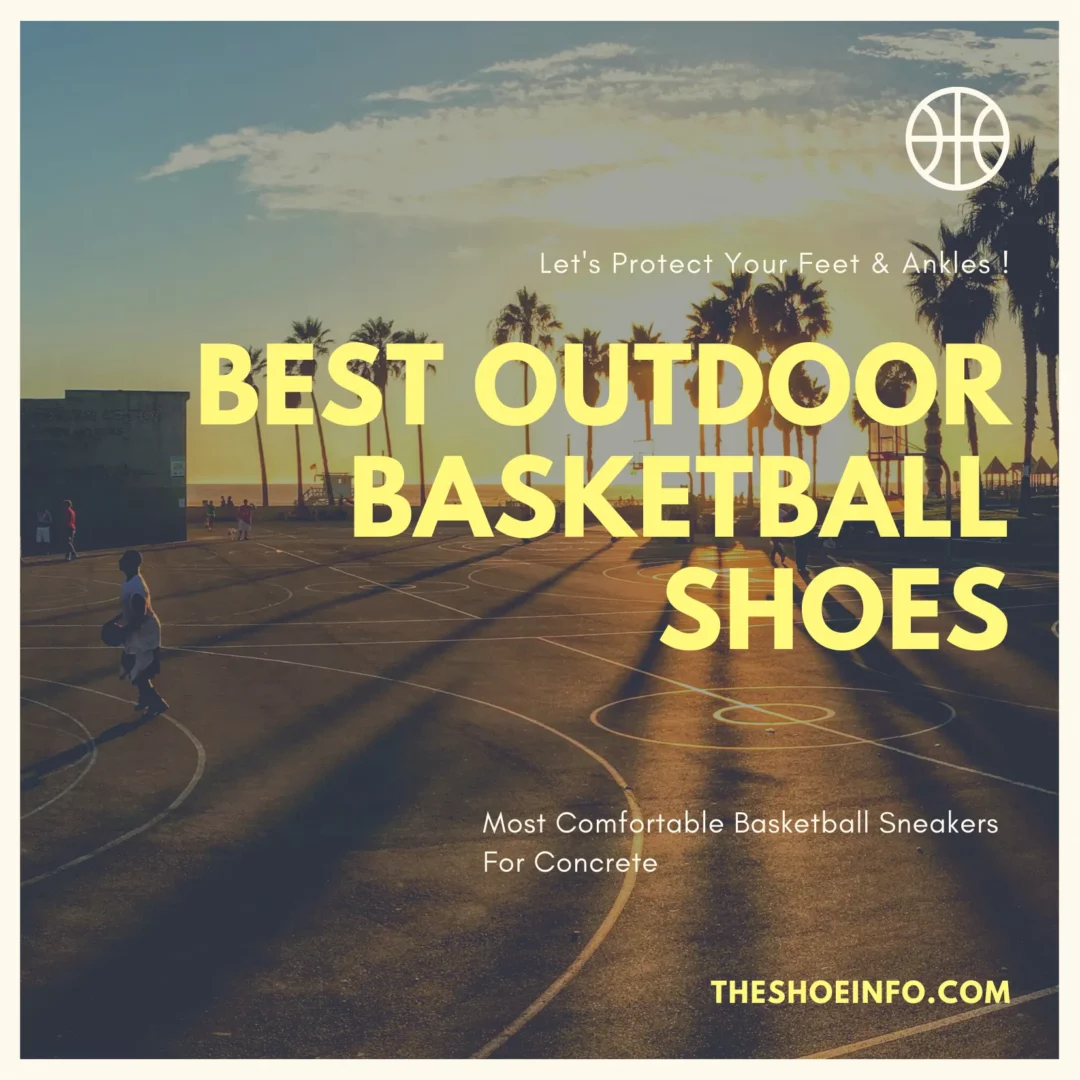 7 Most Durable Basketball Shoes For Outdoor Court
We've tested many top rated basketball shoes for providing real life reviews. and our criteria of selecting these shoes is that, they must have soft and comfy cushioning, Thick Rubber Outsole, Excellent Traction, Maximum Lateral support, Durable and breathable upper material, and of course price.
In this list you'll find top rated outdoor basketball shoes under $100 as well as some above of that. That is why we always make sure to point out all of the great features that any given pair has.
Moreover, any shortcomings that might hold them back from being the perfect shoe for a particular person. It is because everyone has different tastes and preferences when it comes down to feet!
It just takes doing a bit more research and taking more time before rushing into buying something blindly.
Lightweight Breathable
Best Sneaker For High Arch
Flexible and Non-Restrictive
CONS
Quickly Attracts Dust
Side Panels Are Not Durable
Nike has been an innovator in athletic wear over the years. The Nike air impact 3 is one of their latest shoe models, and also happens to be inspired by Dutch Artist Piet Parra.
These Nike basketball shoes is made for outdoor courts because of its thick rubber outsole having herringbone traction pattern and its overall features. Nike air impact 3 runs precisely true to size due to a regular lacing system and a detached tongue.
They will be a good fit for those with wider feet and high arches. The textile upper with this synthetic netting on the outside is pretty flexible and non-restrictive.
The Air Max unit gives you just enough impact protection in the heel and helps you to jump really high. When landed you'll feel the impact and then the air unit cushion below which is nice in the forefoot area.
The impact protection foam is very hard and thin but instead you're getting a better court feel. Which is great for guards.
Lightweight And Breathable Upper
Best Basketball Shoes For Lateral Stability
Nike React Parabolic Air Zoom Strobel Cushioning
Best Shoes For Shooters
Can Be Used For multiple Court Sports
Versatile Wide Fit Basketball Shoe Design

CONS

Expensive Shoes
Need Cleaning Shortly
The Nike Air Zoom G.T. Cut 2 helps you stop on a dime and accelerate back into the open lane in a low-to-the-ground design that helps increase court contact while switching direction.
Separate the players from the play makers in a model that's built on creating separation but supportive enough to help you play all day.
Nike React technology paired with parabolic Air Zoom Strobel cushioning stacked with a Zoom Air unit in the heel helps provide the responsiveness you need to create space and opportunity off the dribble.
Moreover, the React insole provides support and comfort. A soft foam midsole offers comfort and a stable underfoot experience.
Lastly, hit the Brakes As you're hitting that sharp cut, the smear traction helps you briefly stick to the ground while the other directional traction helps you dig your toe in and toe out of it. The hollow herringbone pattern helps you stop quicker.
Molded tongue extends to the toe area and expands for comfort. Plush interior makes it ideal for players who want to feel quick without sacrificing comfort or control.
Must Check – Learn to eliminate Odor from smelly shoes – Tips & Tricks
Anti Slip & Durable Outsole
Most Durable Outdoor Basketball Shoes
Lightning Reflective Silk
Stretchable & Breathable Material
Can Be Used For Playing Volleyball
Best Budget Basketball Shoes

CONS

Not For Narrow Feet
Boring Design
Louis Williams is an NBA star player and this best basketball shoes for indoor and outdoor court is from Lou Williams street ball master signature shoe series.
Most of the outdoor courts are made with concrete or sometimes you get asphalt floor. However, the outsole rubber material of this Lou Williams basketball shoe is flexible and hard. So, it can survives in these hard outdoor courts and we can say this is the best basketball shoe for concrete.
The traction pattern is good enough for the outdoor and indoor courtrooms. This anti slip shoe have great traction that creates excellent ground grip and will not let you slip on these surfaces.
The midsole cushioning unit of this basketball sneaker is good enough. That creates more stability for your fast movements and high jumping with the help of its soft, anti-slip and durable material that provides long term use of these best outdoor and indoor basketball shoes.
Textile And Canvas Upper For Durability
Rubber Outsole For Excellent Grip
Best Multi Purpose Basketball Shoes
Molded And Padded Ankle Collar For Support
Lightweight And Comfortable
Great Traction On Hardwood Court

CONS

Material Looks Cheap
Outsole Durability Issues
These Adidas high cut hoop shoes are very comfortable and much supportive of the ankle area. The outsole unit of this basketball shoe is made of solid rubber. Furthermore, these are the best shock absorbing shoes that can be used for running, but not for long distance running.
The outsole has a full length herringbone traction pattern. That makes it more supportive and grippy on every surface. but on the wet and dusty floors, there are bit of a chance to slip. It has a boosted cushioning in the midsole is excellent and more responsive.
Overall this Adidas outdoor basketball shoes have all the features required for the court games. However, this low cut shoe can be worn for multiple purposes.
They are not only meant for basketball, their low top design make them most durable court sneakers for volleyball, badminton, gym exercises like rope jumping, etc. .
Textile And Synthetic Washable Material
Nike Best Basketball Sneaker 2023
Extremely Comfortable Feel
Best For Volleyball Hitters
Stylish Sneakers Can Be Worn As Casual Shoe
Most Loved By The Customers
If you are a outdoor court player and looking for the best outdoor basketball shoes, that Nike's stylish Sneaker with excellent cushion unit, good quality materials, comfortable fit, and a great traction outsole for lateral stability, can be the right shoe for you!
This is because the durable phylon outsole rubber and its herringbone traction pattern provides extra grip on any hard and dusty floor. Even if you are playing on an indoor courtroom, this Nike hoop is a beast on any surface.
The cushioning unit of this shoe is from heel to toe. you will feel more comfortable with these basketball shoes when you are shifting positions quickly.
Even when you are jumping high with this well cushioned basketball shoe, you won't feel any pain in your feet after landing. Genuine leather material is used on its outer part which is very soft and won't take your extra time for cleaning.
When we talk about its design, personally I feel it's kind of a boring style or you can say that they have old school look but it's my personal opinion. Dozens of pro basketball players have worn this Nike's wide fit sneaker for years.
This is Adidas Own The Game basketball sneaker, this lightweight shoe from Adidas features a breathable mesh upper and synthetic overlays in key areas of the shoe for structural support and durability.
A traditional lace-up design that goes all the way up for secure fit around the foot Padding on the tongue and collar for additional comfort.
The nice silhouette provides excellent ankle support with a soft fabric lining that works great with a cushioned footbed and a shock absorbing design on the midsole.
The rubber extends on the outside of the shoe for added lateral support and a durable non-marking rubber outsole with a pivot point for enhanced movement. So, at your next game make sure your shoes are on point with the Stylish Sneaker from Adidas.
Li Ning LIGHT FOAM Midsole Cushion
Strong Lateral Support
Lightweight Basketball Shoes For Max Speed
Wearable Anti-Slippery Lining
Premium Basketball Shoe For Outdoor
Stylish And Comfortable Feel
Best For Heel Pain

CONS

Narrow Design
Need Proper Cleaning
Side Panels Durability Issue
I did a bunch of research on the internet and read it and I found out that LI NING makes a lot of sneakers that are catered for outdoor courts. LI-NING is a Chinese Company and the majority of basketball is played Outdoors in China.
This basketball shoe is from the speed series and meant for professionals as well as for beginners. The outsole has a Prober loc structure extending from the heel to the forefoot, giving stable support to the entire foot, improving plantar force transmission during social sports, and a shoe-shaped design with a sense of speed and streamlines.
The back palm is equipped with Li Ning BOOM light elastic cushioning technology, which provides cushioning and resilience performance. The Light Foam cushioning technology with full palm adjustment effectively reduces the weight of the midsole and improves stability.
Basketball Shoe Guide – The Game Changing Power of New Balance Basketball Shoes
Choosing the Right Basketball Shoe for Outdoor Play
When it comes to playing basketball outdoors, having the right shoes can make a world of difference in your performance and overall experience. Outdoor basketball courts can be quite harsh on your feet, with hard surfaces and unpredictable terrain. That's why it's crucial to choose a basketball shoe specifically designed for outdoor play. Here are some key factors to consider when selecting the perfect pair,
1. Durable Outsole
The most important aspect of an outdoor basketball shoe is its outsole. Look for shoes with a durable rubber compound that can withstand the roughness of outdoor courts. This will provide better traction, grip, and stability, reducing your risk of slipping or losing balance during intense game-play.
2. Cushioning System
Outdoor courts tend to be harder and less forgiving than indoor ones. A shoe with adequate cushioning is essential to absorb impact and protect your feet from excessive shock. Look for shoes with responsive cushioning technologies like Nike Air Max, Adidas Boost, or other brands' proprietary systems like removable insoles. These will help minimize the strain on your joints and allow you to play comfortably for longer periods.
3. Court Feel
While cushioning is important, it shouldn't compromise court feel. You still want to maintain a good connection with the ground to ensure quick movements and precise footwork. Look for shoes with a balance of cushioning and responsiveness that provide a natural feel, allowing you to maintain agility and control on the court.
4. Durability
Outdoor basketball shoes undergo more wear and tear due to the rough surfaces and prolonged exposure to the elements. Therefore, durability is key. Opt for shoes with reinforced materials, sturdy construction, and additional features like toe caps or reinforced heel counters. These will help extend the lifespan of your shoes and save you from constantly replacing them.
5. All-Weather Performance
Outdoor basketball doesn't stop when the weather turns bad. If you often play in wet or rainy conditions, consider shoes with water-resistant or waterproof materials. This will keep your feet dry and prevent slippery situations on the court.
6. Reviews and Recommendations
One of the best ways to gauge the performance of a basketball shoe is by reading reviews and getting recommendations from experienced players. Look for reviews that specifically mention outdoor play and see how well the shoe performed in challenging conditions. Pay attention to what aspects of the shoe are praised or criticized by reviewers to help inform your decision.
Remember, finding the right basketball shoe for outdoor play is crucial for both your performance and overall.
---
The Importance of a Durable Outsole for Outdoor Basketball Shoes
When it comes to playing basketball outdoors, having the right pair of basketball shoes can make a world of difference in your performance and overall experience on the court. One key feature to consider when selecting outdoor basketball shoes is the durability of the outsole. Let's explore why a durable outsole is so important and how it can enhance your game.
1. Traction that withstands different surfaces
Playing basketball outdoors exposes you to various playing surfaces such as concrete, asphalt, and even rough outdoor courts. These surfaces can be tough on your shoes, especially the outsole. A durable outsole is designed to withstand the harsh conditions and provide the necessary traction to prevent slipping and sliding. With a reliable grip, you can confidently make quick stops, cuts, and changes in direction without worrying about losing traction.
2. Protection against wear and tear
Outdoor basketball can be more demanding on your shoes compared to indoor play. The rough surfaces and potential debris like pebbles and dirt can take a toll on your footwear. A durable outsole made from high-quality materials can offer increased resistance to wear and tear. It helps protect the shoe from abrasions, scuffs, and premature damage, ensuring a longer lifespan and prolonged performance.
3. Enhanced stability and support
Outdoor basketball shoes with a durable outsole tend to provide better stability and support. The sturdy construction helps in maintaining proper foot alignment, reducing the risk of ankle twists and injuries. The outsole's durability adds a layer of stability, allowing you to make explosive movements, jump, and land with confidence. This added support is crucial, especially when playing on uneven outdoor terrains.
4. Consistent cushioning and shock absorption
Besides providing grip and stability, a durable outsole also plays a crucial role in cushioning and shock absorption. Playing basketball on hard outdoor surfaces can put tremendous stress on your feet, ankles, and joints. A well-built outsole with adequate cushioning and shock absorption properties can help alleviate some of that impact. It can enhance your court feel, reduce fatigue, and minimize the risk of long-term injuries associated with repetitive high-impact movements.
"A durable outsole is like the foundation of a basketball shoe, ensuring stability, protecting against wear and tear, and providing optimal traction on different outdoor surfaces."

expert review
FAQs
Other Posts