Are you a concerned parent and looking to buy a baby first walking shoe for your little one, this list you must see. These 6 baby shoes are podiatrist recommended shoes for babies.
When Babies learn to stand and walk they need lightweight shoes with support and Flexibility, so they can grip and balance. So, the baby's first shoes should have no slip soles to prevent slipping and tipping.
Things To Consider When Buying First Walking Shoes For Babies
Material
Dr. recommends sticking to more natural materials like leathers and suede since they are naturally very flexible and breathable.
Lightweight Shoes
Lightweight and flexible shoes are best for new walkers. Also a non-slip sole will help keep the baby from taking any unnecessary tumbles.
Child's Natural Foot Shape
Did you know that the shape of a baby's foot is super important when it comes to picking out shoes? Yup, it's true! We've noticed that all babies have feet that are widest at the ends of their toes.
So, when you're looking for shoes for your little one, make sure to find ones that are shaped like a natural human foot. That means they'll be widest at the very ends of the toes.
Shape Of The Shoe
Another important thing to keep in mind when buying shoes for your kiddos is to make sure the shoe shape matches the shape of their foot. This will help keep their feet comfy and healthy.
So, when you're shopping for first walking shoes for a baby, don't forget to check if the shape is a good match for your child's foot.
Protection
When kids are little, their feet need to be protected so they can learn about the world around them. This helps their brain and nerves grow strong.
Even when they get older, they still need good shoes to keep their feet safe and healthy. So, when you're buying shoes for babies, remember to look for flat shoes that will do the job.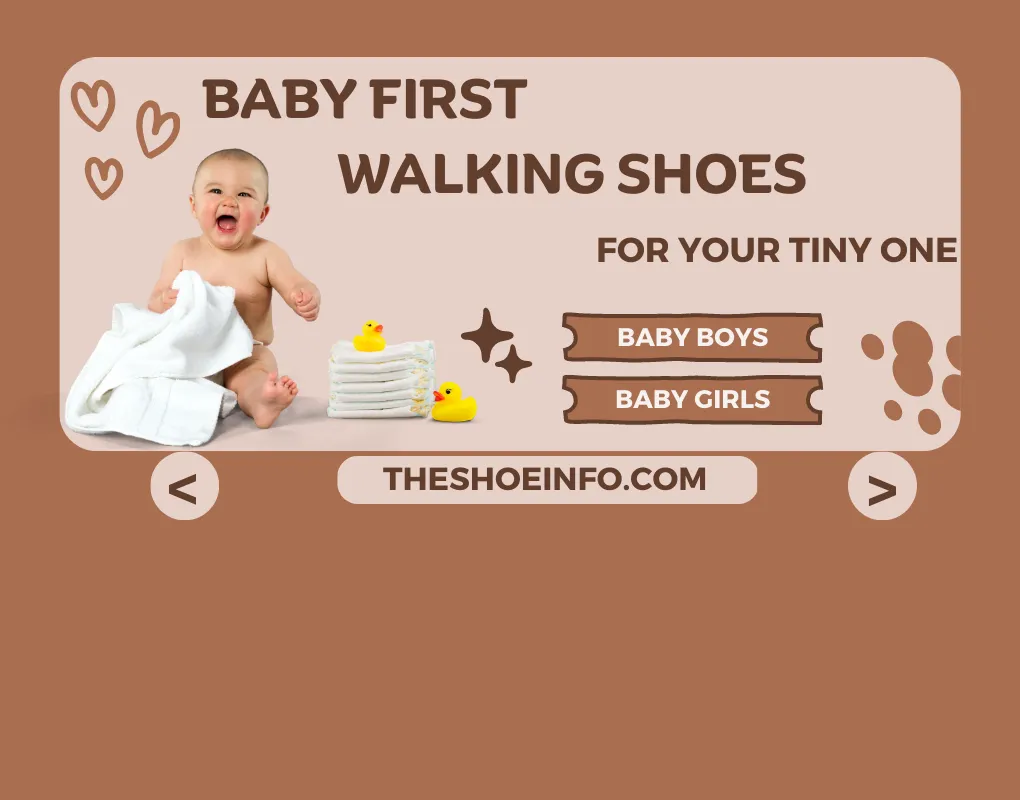 6 Best Recommended First Walking Shoes For Toddlers
With so many choices on the market it can be daunting to find the best baby walking shoes. That's why we are going to review the 6 best baby first walking shoes to support your child's first steps.
This Josmo baby shoe is a classic first walking shoe for infant babies' first steps. These leather, hard bottom walking shoes for baby boys and girls offer a great look and provide excellent support and comfort.
These babies' first walking shoes have leather design and they're perfect for newborns and toddlers from ages: Months 0-3, 6-12, 12-18, 24. Sizes: 2 infants – 8 toddler.
Moreover, these flat Hard Bottom Shoes offer high-top ankle heel support and lace-up closure. Again, these baby first walking shoes are very lightweight, comfortable, have non-slippery soles, and help provide feet with traction and balance to walk in stride.
These classic vintage infant toddler baby girl / baby boy dress walkers shoe suit casual & formal wear.
Specifications
Fabric Upper & Rubber Sole
Size 6-12 Months fits for foot length 4.17″-4.53″,
Sock-like Upper provides a foot-hugging fit with a stretchy knit collar that wraps around the ankle
Pillow-soft cushioning keeps toddler feet feeling fresh during any activity
Non-slip Soles rubber soft spikes and sensory pods under outsoles prevent your child from slipping, help baby learn balance as their toes grip the ground
Anti-collision toe cap adds extra barrier to protect baby's feet from injuries
Breathable upper for high breathability that allows kid's little feet to stay cool and dry
Stretchy knit collar ensures quick slip-on
Most Comfortable baby first walking shoes
These first walking shoes for babies are great to do the job. They Are very lightweight and fit as expected. They're highly recommended shoes for babies and can be worn with or without socks.
They also dry quickly when wet. These are great quality first walking shoes for babies with lots of cushioning and great Velcro that doesn't separate easily.
These beautiful Baby sneakers are made of high-quality soft stretchy fabric. A quick-drying and lightweight material offers a comfortable and excellent wearing experience for your child.
It's Slip on and Hook-and-Loop design makes these toddler water shoes easy to wear and take off. Their Elastic shoe neck design reduces abrasions when walking or running.
However, the soft Cushioned Padded and machine washable feature also the removable sock liner that provides cushioning performance and adds more comfort.
Their Non-slip EVA sole makes sure of shock absorption performance and protects your child's feet from being hurt by sharp objects.
Last but not least, these toddler shoes are perfect for pool, water sports, walking, beach game, swimming and other indoor and outdoor activities.
These Infant baby first walking shoes are made of High Quality Pu Leather Material plus Soft Rubber sole With High Quality, Comfortable And Soft midsole is More Safe And Reliable.
The Oxford Dress Shoes are suitable for both casual and formal wear, can be worn as daily, uniform, and wedding shoes for boys and girls.
They're great for crawling, walking, and playing. Whether it's a holiday, birthday or wedding, the baby shoe's brogue details will look darling on your infant's feet.
Moreover, it makes a perfect baby shower, birthday present or "just because" for your very own little love. It's the best shower gift for a newborn.
Lastly, the Size Chart Is Just For Your Reference, Please Refer To The Amazon Size Chart And Measure Your Baby's Feet Before Ordering This Dress Shoes.
Specifications
Fabric upper & Rubber sole
Breathable upper for high breathability that allows kid's little feet to stay cool and dry
Non-slip Soles prevent your child from slipping, help baby learn balance as their toes grip the ground
Great baby birthdays shoes
Anti-collision toe cap adds extra barrier to protect baby's feet from injuries
Lightweight Cushioned memory foam footbeds for enhanced comfort
Durable soles provides lightweight cushioning for long-lasting all-day play
Easy On And Off hook-and-loop design makes it easy to take on and off
These First walker shoes for babies are built to encourage natural movement for first-time walkers. They are perfectly designed to be baby first walking shoes for newborn boy's and girl's feet and their Soft Soles flex and bend with every step.
Moreover, their soft sole allows feet to grip as they begin to walk and room for little feet to grow naturally.
Specifications
100% Rubber
Regular fit Hugs the foot
Best Orthopedic Shoes For Babies
Distinctive shell toe design provides protection and style
Woven outsole with anti-slip rubber print
Lightweight First Walking Shoes For Toddlers
This is a superstar from Adidas Originals kids. These adorable hoop style sneakers for babies are made with a full grain leather upper and a lace of closure for a snug fit. Moreover, they have the three stripes on either side.
The classic signature logos on the back as well as on the tongue. Also they've a really soft mesh lining for a nice breathable wear in the shoes and have some padding in the footbed for comfort.
Lastly, they've a lightweight EVA midsole for soft light cushioning. It's all on top of a herringbone pattern rubber outsole for durable wear.
Pro Guide For Parents
Your baby's feet are also an important part of their growth. Just like how our hands feel things, our feet need to feel things too. It helps them develop properly.
At the very early stage when kids start walking and standing, your child doesn't need shoes all the time. Just a thin layer of protection around the house is enough.
It's totally okay for them to be barefoot or wear socks when they're playing outside.
FAQs
Other Posts